Posted on October 22, 2010 by Katie in Movies
The fabulous Helen Mirren proves that she knows her way around a .50 cal. And an Uzi. And an AK-47.
Posted on October 20, 2010 by Katie in News
Obviously, we love it when a woman decides to learn more about guns whether out of mere curiosity, a longing to get to know the men in her life better, or any other personal reason she might have.  But the reality is that guns are good for protection, too.  And the majority of the time, […]
Posted on October 18, 2010 by Katie in Product Features, Reviews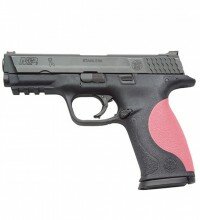 It's National Breast Cancer Awareness Month. Firearms and accessory manufacturers are pitching in for the cause!