Hey there,
Thanks for checking out Girl's Guide to Guns and considering joining our small but fabulous group of girl gun bloggers. Below you'll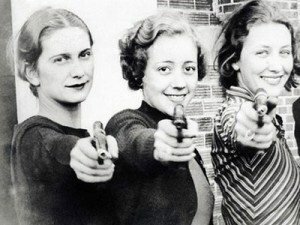 find guidelines to help you get started with your first post for the site.
At Girl's Guide to Guns, we like to keep things empowering, positive, fun, and full of personality.  A little sass never hurts, but we try to stay away from anything that sounds aggressive. We ask that you keep your distance from the violent use of firearms and anything fear-based; there are plenty of blogs out there for that kind of writing. We like to promote camaraderie, friendship and fun, in addition to safety and education surrounding firearms.
If you're stumped, write about your personal experiences – things you've struggled with and things you've mastered. Talk about how you got started and what shooting means to you.
Note that new- or non-gun girls read this blog, so if you are a gun pro, don't forget to explain the meaning of terms that may be foreign to beginners.
Please include some photos, if possible. Professional photography is not required, but high quality images will draw more attention to your post and keep readers interested. Put notes where you want your photos in your post, along with any captions you wish to add.  If you want to give credit to the photographer, please include that information in your post.  We also highly encourage you to provide links to include in the body of your article – if you're not sure how to embed them, just copy and paste the link and we'll take care of the rest.
What comes next?
After you've written your post, we'll put it through our editorial process and post it in the Guest Blog.  If it meets the criteria outlined above and we feel it's a good fit for our front page, you'll likely see it featured as one of our primary posts – we'll definitely send you an email if and when we do this!
Have fun with this! We're excited to see what you come up with. Thanks in advance for being a part of the Girl's Guide to Guns network!
Best,
Natalie & Katie