Natalie Foster
Creator of Girl's Guide to Guns

CEO & Co-founder, Editor

Natalie grew up in West Texas in a family full of hunters. Shooting was a "guy thing" back then and she didn't have much of an interest in it until she moved to Los Angeles. She found that when she went home to visit, she got plenty of time with the girls, but missed out on spending time with the guys in the family. She decided to jump into their world and begged them to take her shooting. After breaking through the skepticism and proving herself on the range, her love affair with firearms began.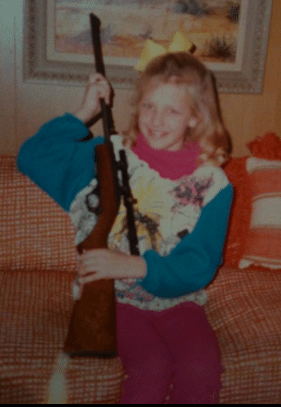 Within a year or two of shooting and researching all that the shooting sports have to offer, Natalie realized there wasn't much information out there for stylish chicks who enjoy their fashion labels just as much as they enjoy putting lead down range. She created Girl's Guide to Guns to show other ladies just how fun, challenging and addictive shooting can be.
Natalie also enjoys painting, dancing, fishing, surfing, skiing, and soaking up all the sunshine she possibly can at the beach near her place. She also happens to really like Skittles and things that sparkle. Someday when she grows up she hopes to be both Martha Stewart and Laura Croft. In her spare time she volunteers as a board member of her DAR chapter and enjoys fueling her shopping habit.  Her goal with Girl's Guide is to concoct ways to empower women in traditionally male dominated fields through fun, feminine, and educational means.
Her guns of choice: She loves The Sig Sauer P250 9mm and the Desert Eagle.
For inquiries, hit her up at [email protected]
Keep an eye out for her new book coming soon!
To check out some of Natalie's videos you can head over to our VIDEOS section or view a few on our YouTube Channel.