She's in the Army. She hunts. She sings opera. And I kinda want to ask her to be my best friend.
I've been on the fence about beauty pageants for quite a while.  Are they good for women and our collective self image? Meh. I have my doubts. But this contestant has definitely got my attention. In this People Magazine article, Miss Kansas, Sgt. Theresa Vail explains that she wants to demonstrate to young women and girls that beauty comes from within. And while it is not the first time we've heard these words from a beauty contestant, coming from Sgt. Vail, the message takes on a whole new meaning.
"Nobody expects a soldier to be a beauty queen," Vail says, "but I'm all about breaking stereotypes."
She is a living example of the latest social mantra that "strong is the new beautiful," and interestingly, she doesn't shy away from the heavy stuff:
"I was bullied when I was a kid. It got so bad that I nearly took my own life … My dad [an Army dentist stationed in Germany] took me hunting with him and it saved my life. Ever since then, I've been an outdoors girl," she says. "My passion is empowering girls through male-dominated outdoor sports."
She adds, "I want to help them develop confidence, to let them know that they have what it takes to accomplish anything they want to accomplish. I know many young girls look at beauty candidates and think, 'What a perfect life they have.' But I want them to know that I haven't led a perfect life. And that beauty comes from the inside."
This one officially has my respect. And if that heartfelt message was just a little too sappy for you, not to worry. She exercises her badassery on a regular basis:
She's also an expert M16 marksman, a bow hunter, a skydiver, a boxer and a mechanic. She finally had to stop motorcycle racing after breaking all the fingers in her right hand – a potential stumbling block, she decided, to reaching her goal of becoming an Army dentist. She can skin a deer, she has a great squirrel stew recipe (it features sauerkraut) and, one day, she hopes to hunt bear with her bow and arrow.
Seeing this paradigm shift in that bastion of beauty standards, The Miss America Pageant, is no small event and I look forward to seeing more women and girls proudly making shooting, hunting and, what the heck, even our armed forces a part of their identity.
Keep up the good work, Miss Kansas. We will be rooting for you.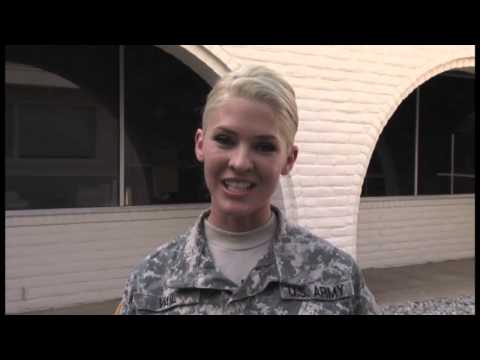 http://www.people.com/people/mobile/article/0,,20732653,00.html
UPDATE:
Though Theresa didn't win the competition, she has made some great inroads in pop culture for women who shoot and hunt. Great job, Theresa! Can't wait to see what you do in the year to come.