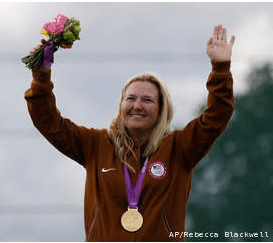 While most of us here in the US were asleep on Saturday night, this California girl and her shotgun were out braving the London wind and rain in an effort to make history.
Kim Rhode, who, for the record is one of the coolest chicks you could ever meet, left the rest of her women's skeet competitors in the dust and scored an Olympic Record hitting 99 of 100 targets, tying the World Record and scoring her historic fifth Olympic medal in five Olympics.  She is the first American athlete to ever do so.
Check out this interview we did with Kim during her training last year: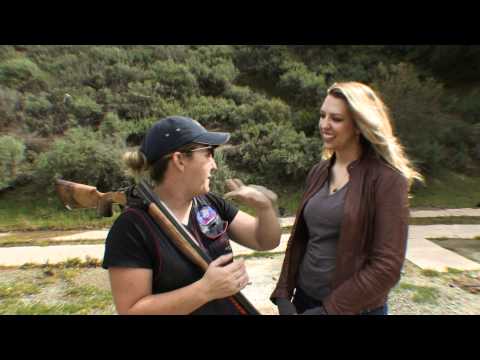 Here is a report on her incredible win:
Rhode's drive for 5 capped by skeet gold medal
She set an Olympic record with 99 points
Updated: Sunday, 29 Jul 2012, 3:43 PM MDT
Published : Sunday, 29 Jul 2012, 7:58 AM MDT
TIM REYNOLDS,AP Sports Writer
LONDON (AP) — Step aside, Carl Lewis.
You, too, Jackie Joyner-Kersee and Al Oerter.
Meet Kimberly Rhode, the first American with individual medals in five straight Olympics, after a golden, record-setting, nearly perfect performance.
Rhode won the women's skeet shooting Sunday, tying a world record and setting the Olympic mark with 99 points — meaning she missed once in 100 shots. She was eight targets better than silver medalist Wei Ning of China and nine better than Slovakia's Danka Bartekova, who topped Russia's Marina Belikova in a shootout for the bronze.
Rhode won in double trap at Atlanta as a teenager in 1996, took bronze in that event four years later at Sydney, re-claimed the gold at Athens in 2004 and won the silver in skeet at Beijing in 2008.
Now, golden again.
"It's just been an incredible journey," said Rhode, strands of glitter intertwined with her blonde hair. "And ultimately, I couldn't be happier for bringing home the gold for the United States."
Lewis, Oerter, Joyner-Kersee and Bruce Baumgartner are the other Americans recognized as individual medal-winners in four straight Summer Olympics. Rhode's at five now, and at 33 years old, she's not planning to stop anytime soon.
Read the rest of this article here: http://www.krqe.com/dpps/sports/summer_games/rhodes-drive-for-5-capped-by-skeet-gold-medal-sp12-jgr_4253676
We could not be more proud of you, Kim! I look forward to seeing that medal in person back in California. Thanks for inspiring us all yet again. You are a true champion in every sense of the word.