Unless you've spent some significant time under a rock lately, you've probably seen the Captain America posters and trailers around town and on TV. I'll be honest, walking into the movie I was a bit skeptical. After spending enough time around solid, salt of the earth gun people, you learn to cherish each and every freedom we have, and Hollywood does not currently have the best reputation for holding those freedoms in a positive light. In short, I was expecting a hit job on the dear old stars and stripes.
Thankfully, I could not have been more wrong. Watching Captain America was the most fun experience I've had at the movies all summer.  Set in WWII era New York, Steve Rogers, played by the oh-so-yummy Chris Evans in a miniaturized form, attempts to join the Army only to have his dreams crushed due to his laundry list of physical ailments. If you've seen Evans in other roles (like Human Torch in Fantastic Four), you're aware that this hunky star is far from scrawny, yet in the early part of the film Evans is nearly unrecognizable thanks to a special effects display that rivals that of the Armie Hammer duplication in The Social Network. Upon the news that Steve's best friend, Bucky, has received his orders of shipping out to fight the Nazis, an Albert Einstein double named Abraham Erskine (subtle, no?) overhears Steve revealing the reasons he so desperately desires to join his friend in the fight despite his physical challenges. It just so happens that Erskine, played by Stanley Tucci, is looking for a person with such a heart and will as Steve's for an experiment he's been working on. Steve then steps in to Erskine's laboratory and is bitten by a rogue radioactive spider… oh, wait… wrong movie. Why don't I just let the trailer do the talking: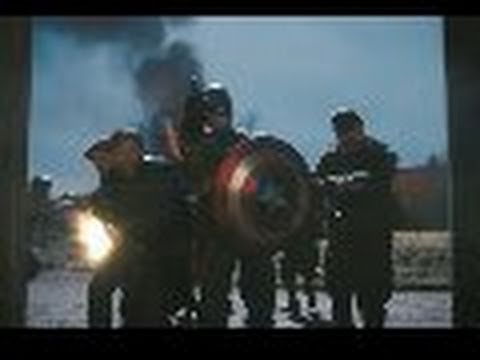 While the film is strong all the way around – from effects and score to script and cinematography – one character is a bona fide scene stealer. Hayley Atwell plays British ex-pat turned Army Special Agent Peggy Carter, Steve Rogers' eventual love interest. I've
gotta give the writers some serious kudos on this one. Peggy is strong, smart, beautiful, tough and incredibly classy.  Simply stated, she's the perfect female movie icon.  Her 1940s hair and makeup make this gun girl long to have been born about 5 decades earlier. Her interactions with Tommy Lee Jones' Colonel Phillips highlight the fact that Peggy is years ahead of her time and has been forced to break through a glass ceiling or two to attain her position. What 21st century chick doesn't appreciate that contribution? The amazingly well cast Atwell glides through this role as if it were written for her. She also happens to know how to handle a gun and leave the boys jaws on the table as she walks out of the room. Basically, she's everything I want to be when I grow up. Atwell's performance alone is enough to make me buy a second ticket. Ok, ok, fine. Chris Evans' pectoral muscles might have something to do with it, too.
Now for the gun report: you'll see plenty of WWII-era Army standard issue handguns, rifles, shotguns and tank artillery. I can't help but think that the prop department must have had some fun creating the look and feel of the futuristic rifles and modified Nazi Lugers that harness the earth-destroying, human-vaporizing power of The Tesseract. Incidentally, Hugo Weaving is spot on as Johann Schmitd, the head of HYDRA and Captain America's Nazi megalomaniac rival who seeks to conquer the world with these weapons.  Disappointingly, Evans (or perhaps, the stunt coordinator) gets a thumbs down for his gun handling in the train sequence.  I swear, if I see one more actor with his or her finger on the trigger before he or she is ready to fire I'm gonna call up Freddy Wong and get him to lay the smack down, if ya know what I mean. I'll let Chris Evans off the hook this time because his primary weapon is a big metal disc, not a gun, so his firearm training might not have been that extensive and also because, well… he's hot.*
Don't miss this film in theaters. It's definitely a summer must-see. I give it two big shiny gold guns up for style, script, casting and general awesomeness.  It's a great patriotic flick that's perfect for the whole family. And be sure to stay all the way through the end credits for a little Easter Egg that they leave you. Gotta love Marvel for upholding that fun tradition. Until then, enjoy these little snippets of raw interview with the oh-so-classy Miss Atwell: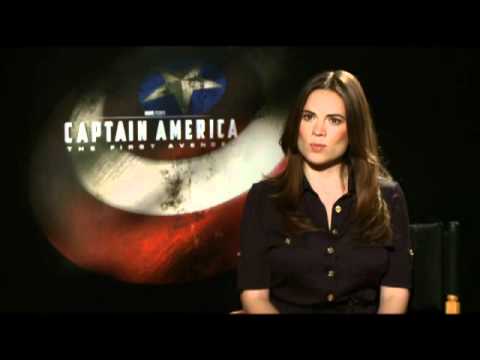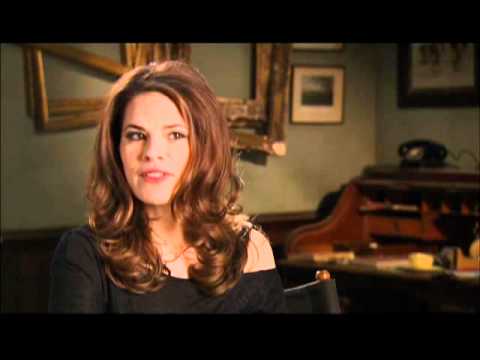 *For the record, if Chris Evans was using a real gun as opposed to a movie gun and displayed poor handling, I definitely would lay the smack down, despite his hotness.