As we dig a little deeper in to the world of firearms, we've discovered that there are some pretty interesting circles out there. One of the more fascinating aspects of the gun community is competitive shooting. This goes far beyond the world of skeet and trap or even what you see on Top Shot. Below you'll find a short list of the more popular shooting competitions in the United States. Because there are so many cool competitions in the US, we'll tell you about the handgun side of things this time around. Check back soon for more information on shotgun, rifle and mixed firearm competitions.
Last August I hopped in the car for a little road trip to the 2010 Steel Challenge in Piru, CA. I went up there to support  and see my friend and GG's resident expert, Julie Goloski-Golob, in action. This smoldering day out on the range was my introduction to competitive pistol shooting.
Steel Challenge
I wasn't quite sure what to expect when I drove on to the range, but since the Steel Challenge is considered "the ultimate display of speed and accuracy", I knew I was about to experience an impressive event. When I arrived, it was clear that this was a serious firearms contest. The sponsorship signs were ubiquitous – Smith & Wesson, Sig Sauer, Glock, Safariland and many more made their presence known. Each company sponsored one or more of the competitors and it was clear that they are proud of their investments. I asked around for the location of the women's teams and within a few minutes of hunting found some of the top shooters in the world doing exactly what they were born to do.  Everywhere I looked was an Olympic athlete or world champion shooter and they made hitting those targets in record time look like they could do it in their sleep. I had done enough research at that point to be pretty overwhelmed by the general awesomeness of the accomplished ladies around me; just to be invited as a competitor to this event is a huge deal. According to their website, "The Steel Challenge World Speed Shooting Championships are one of the crown jewels of the shooting circuit and the premier professional pistol competition in America. With more than 220 of the world's fastest shooters competing for over $390,000 in cash and prizes in 2007, it has found a permanent place on the shooting schedules of every major competitive shooter." Wow. I'm officially impressed.
My favorite thing about these shooters, besides their undeniable talent, is that they are all incredibly affable and welcoming. Besides our friend Julie, I got the chance to chat with several legendary shooters including Jessie Abbate, Maggie Reese (of Top Shot season 2), and Randi Rogers among many others.
Essentially, these ladies are in a race to shoot metal targets at varying distances as accurately and quickly as possible. There are, of course, many factors that make this task quite a bit more challenging, including movement and all sorts of regulations. The creators kept this game pretty simple on purpose, however.  According to Mike Fichman, one of the founders, "We wanted a match that was challenging and fun but would also be easily understood by non-shooters who would see the competition and find within themselves a greater desire to join the shooting sports." Mission accomplished, Mike. This game is perfect for beginners like me! Look for a video about my time at the Steel Challenge to be posted very soon.
Until then you can find more information, including rules and history of the Steel Challenge, by clicking this link: http://steelchallenge.com/
Photography by Jack Nischik
IDPA
The International Defensive Pistol Association, or IDPA, is a shooting sport that simulates self-defense scenarios and real life encounters.  Basically they put you in scenarios that you might encounter in real life and test your ability to handle stressful situations while using your firearm.  There are 5 divisions based on type of firearm:
Custom Defensive Pistol (.45ACP semi-automatics only);
Enhanced Service Pistol (9mm (9×19) or larger caliber semi-automatics);
Stock Service Pistol (9mm (9×19) or larger caliber double action, double action only, or safe action semi-automatics);
Enhanced Service Revolver (.38 caliber or larger double action revolvers); and
Stock Service Revolver (.38 caliber or larger double action revolvers).
Shooters are also broken into skill levels including Novice, Marksman, Sharpshooter, Expert, and Master.  And this is one of the things GG2G loves about IDPA – you don't have to be an expert marksman to get involved.  There's an assumption that you know how to shoot, but you won't be competing against someone who has no problem shooting the bullseye out of a target!  You also have to demonstrate skills like shooting with one hand and shooting with your non-dominant hand depending on the course.  Katie competed in her first match this past weekend and will post an article about it soon, but if you want to get involved, head on over to the IDPA Club Listing to see if you can find one near you.
Randi Rogers of Team Glock is an Award Winning IDPA Competitor
IPSC
IPSC (often pronounced "ip-sik") is the International Practical Shooting Confederation, and might be more along the lines of what you think of when you think "Shooting Competition".  Whether you're into handguns, rifles, shotguns, or airguns, IPSC has something for you.  Just like IDPA, there are different rankings depending on your skill-level, and the courses are set up to challenge you.    Check out the description from the IPSC website:
IPSC shooting is dynamic, challenging, and one of the fastest growing shooting sports in the world today. Courses of fire utilize many aspects not found in the more traditional shooting disciplines such as movement by the shooter, moving targets, multiple targets, and the freedom for the shooter to solve the shooting challenges presented in the courses of fire.
In general, the scoring is based on accuracy, power and speed.  I remember talking to one shooter who said the hardest thing for her starting out, after having been a bulls-eye competitor, was running through the courses!
One well-known IPSC competitor you might've heard about before is Athena Lee of this season's Top Shot, who was the 1999 and 2008 IPSC World Shoot Open Women's Champion.  Check out this video of her showing off her skills.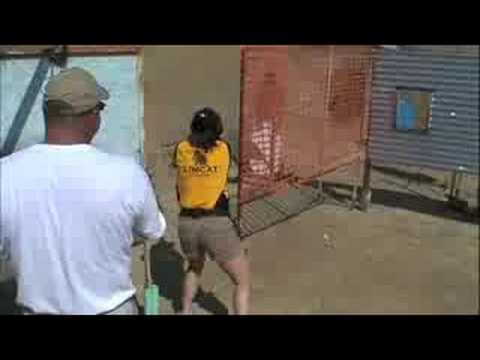 There are plenty of other exciting shooting games out there. If your favorite one isn't listed here, let us know in the comments section below. We'll showcase several more in the near future and we'll make sure your request is one of them.